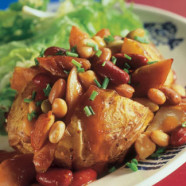 Ingredients
2 x 170g (6oz) 'ready to eat' smoked mackerel fillets, fresh or defrosted, skinned and roughly chopped
1 x 420g can mixed beans in spicy tomato sauce
or 1 x 420g can baked beans
black pepper
2 baking potatoes, cooked
2 x 15ml spoon (2 tablespoons) fresh chopped chives
Serves 2
NUTRITIONAL VALUES PER PORTION (APPROX) 622 Kilocalories;
30g Protein; 27g Fat; 67g Carbohydrate; 11g Fibre.
Method
Heat the beans in a pan and add the fish and black pepper.  Heat through.
Make a crosswise incision on each potato and spoon over the fish mixture.
Garnish with the chives and serve.