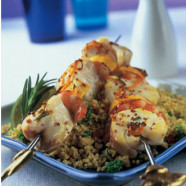 Ingredients
225g (8oz) coley or cod fillets, fresh or defrosted, skinned and cubed
4 raw tiger prawns, fresh or defrosted, peeled
1 small yellow courgette, sliced (optional)
Marinade:
1 x 15ml spoon (1 tablespoon) sunflower oil
grated rind and juice of 1 orange
1 x 15ml spoon (1 tablespoon) lime or lemon juice
sprig fresh rosemary, chopped
1 x 10ml spoon (1 dessertspoon) wholegrain mustard
1 clove garlic, crushed
salt and black pepper
lemon wedges, to garnish
Serves 2
Method
In a small bowl mix all the marinade ingredients together and set aside.
Place the fish into a shallow dish.  Pour over the marinade and place in the refrigerator for 20 minutes.
Thread the cubes of fish, prawns and courgette onto 2 short metal kebab skewers.
Place under a preheated grill or barbecue and cook for 15-20 minutes, turning once and brushing with any remaining marinade mixture.
Garnish and serve with or on a bed of couscous.