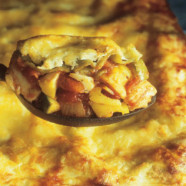 Ingredients
225g (8 oz) coley or cod fillet, fresh or defrosted, skinned and cubed
225g (8 oz) smoked cod, haddock or whiting fillet, fresh or defrosted, skinned and cubed
1 x 15ml spoon (1 tablespoon) oil
1 small onion, finely chopped
1 courgette, chopped
1 x 397g jar pasta sauce with added mushrooms
black pepper
6 sheets lasagne verde
1 egg, beaten
115g (4oz) cottage cheese
150ml (5 fl oz) plain fromage frais or natural yogurt
55g (2oz) cheese, grated
Serves 4
Method
Preheat the oven to 190°C/375°F, Gas Mark 5
Heat the oil in a large pan and cook the onion until soft.  Add the courgettes, pasta sauce and seasoning.  Bring to the boil, remove from the heat and add the fish.
Cover the base of an ovenproof dish with a layer of lasagne sheets.  Top with half the fish mixture.  Repeat the layers, finishing with the lasagne sheets.
To make the topping: mix together the egg, cottage cheese and fromage frais or yogurt.
Pour over the lasagne and top with the grated cheese.
Bake for 45-50 minutes.
Serve with mini pitta or French bread.