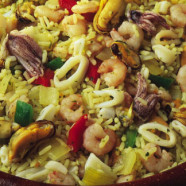 Ingredients
1 x 200g (7oz) pack mixed shellfish, fresh or defrosted
1 x 15ml spoon (1 tablespoon) oil
1 onion, chopped
1 clove garlic, crushed
half a red pepper, deseeded and chopped
half a green pepper, deseeded and chopped
1 x 200g (7oz) pack coriander and herb flavoured rice
250ml (9 fl oz) white wine
500ml (18 fl oz) water
fresh chopped coriander, to garnish
Serves 4
NUTRITIONAL VALUES PER PORTION (APPROX): 201 Kilocalories;
10g Protein; 6g Fat; 18g Carbohydrate; 2g Fibre.
Method
Heat the oil in a large frying pan. Add the onion, garlic, peppers and rice.  Cook for 1 minute.
Add the wine and water.  Cover and cook for 7 minutes.
Add the shellfish and cook for a further 3 minutes, or until the liquid has been absorbed.
Serve immediately, garnished with the coriander.