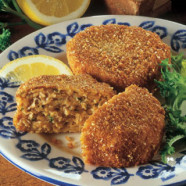 Ingredients
225g (8oz) mixed crabmeat, fresh or defrosted
225g (8oz) potatoes, cooked and mashed
salt and black pepper
half a small onion, grated
1 x 15ml spoon (1 tablespoon) fresh chopped parsley
pinch cayenne
1 x 15ml spoon (1 tablespoon) lemon juice
2 eggs, beaten
flour
55g (2oz) breadcrumbs
25g (1oz) oatmeal
oil, for shallow frying
garnish with lemon wedges
Serves 9
Method
Mix together potatoes, crabmeat, seasoning, onion, parsley, cayenne and lemon juice.
Bind together with half of the beaten egg, and shape into 9 cakes, using floured hands.
Mix breadcrumbs and oatmeal together.  Dip the cakes in beaten egg and coat with the breadcrumbs mixture.
Shallow fry in hot oil for 4-6 minutes, turning once.
Garnish and serve with broccoli and boiled new potatoes