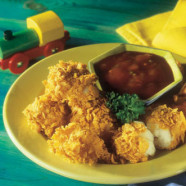 Ingredients
455g (1lb) thick coley, cod or haddock fillets, fresh or defrosted, skinned and cut into 5-7cm (2-3″) pieces
dash lemon or lime juice
salt and pepper
55g (2oz) cornflakes, crushed
Serves 4
Tip: For adults this recipe makes a nice hot party or buffet dish serve with a selection of hot and spicy dips.
Method
Preheat the oven to 190°C/375°F, Gas Mark 5
Place the fish into a large bowl and add the lemon or lime juice and seasoning.
Coat  the fish in the crushed cornflakes.
Place onto a lightly greased ovenproof dish and bake for 7-10 minutes.
Serve with potato wedges and tomato sauce dip.