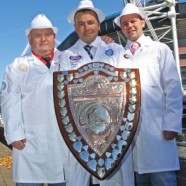 The  UK's  top fishmongers are sharpening their knives in preparation for the  ultimate contest – the  hugely popular British Fish Craft  Championships 2013 to be held in Cardiff Bay on  August 23-26, the  late summer Bank Holiday weekend.
Veteran Cardiff fishmonger, Mike  Crates, 55, famed for coming runner-up no less than 20 times will again be  giving the big one a shot on Sunday, August 25.
"I love the atmosphere  and I enjoy competing, and I always come away with trophies, so there's every  reason to keep going," he says. "And it would be great to finally win the big  one after coming second so many times."
The reigning champion is Gopal  Nandy, who works for M&J Seafood in Birmingham.
"It's rare for  anyone to win two years in succession, and if I manage to retain the crown,  I'll be the first person to do so for many, many years, so that's a big  motivator," he says. "We are judged on speed and presentation, so I am  refining my skills from now until the competition, to make sure that I'm on  top form."
Entries for the British Fish Craft Championships 2013 are expected from all over the UK, with entries received last year from as far afield as Cornwall, Norfolk, Yorkshire and London.
The 2013 event is  the 61st British Fish Craft Championship, and will be the fifth year that it  has been held in Cardiff – forming part of the city's Harbour  Festival.
Last year a massive three tons of fresh fish was skinned,  filleted, trimmed and sliced by the competing fishmongers, and  a  similarly huge haul will  be passing beneath the fishmongers' knives this  year.
All this fabulous, expertly handled fish will be  sold to  the public at bargain basement prices.
Throughout the weekend,  fishmongers will be on hand to give advice to the public on how to deal with  their catch.
The Bank Holiday Monday will also feature oyster opening.