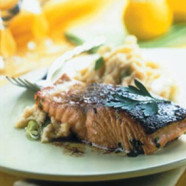 Ingredients
4 x 125g (4oz) Tartan Quality Mark salmon fillets
2 tbsp olive oil
1 tbsp balsamic vinegar
juice of half lemon
handful of chopped parsley
salt and pepper
450g (1lb) hot mashed potatoes
(or a family pack of instant mash � follow instructions on packet)
bunch of spring onions, sliced
Serves 4
Preparation Time: 5 minutes
Cooking Time: 10 minutes
NUTRITIONAL INFORMATION
379 kilocalories
Carbohydrates: 19
Fat: 22
Omega-3: 2
Method
Pre-heat oven to 19O C/375 F /Gas Mark 5.
Mix 1 tbsp oil, balsamic vinegar, lemon juice and half the parsley. Place the salmon, skin side up, in a shallow oven proof dish, season and pour over the marinade. Allow to marinade for at least 10 minutes.
Cook the salmon in oven for 8 – 10 minutes. The salmon is cooked when the flesh becomes opaque or when it flakes easily with a fork.
Combine mash with remaining oil, parsley and spring onions.
Serve the salmon on a bed of mash