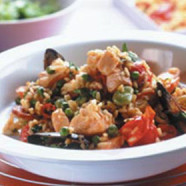 Ingredients
450g (1lb) skinless salmon fillet, cut into 2cm (1″) cubes
2 tbsp olive oil
1 red onion, sliced
1 clove garlic, crushed
1 red chilli, deseeded and finely chopped
350g /12oz chicken cut into chunks
225g /8oz chorizo, sliced
1 red pepper, sliced
1 green pepper, sliced
225g (8oz) paella or risotto rice
560ml / 1 pint fish stock
1 pinch of saffron threads
50g (2oz) frozen broad beans
75g (3oz) frozen peas
16 uncooked prawns, shelled and heads removed
225g / 8oz live mussels, scrubbed
generous handful of coriander
2 tbsp brandy or sherry
1 lemon or lime, cut into wedges
Serves 4 – 6
Preparation time: 15 minutes
Cooking time: 25 minutes
NUTRITIONAL INFORMATION
675 kilocalories
Carbohydrates : 34 g
Fat : 43g
Omega 3: 2g
Method
Heat the oil in a large or paella pan and cook the onion, garlic and chilli for 2 minutes until soft but not coloured.
Stir in the chicken and cook for 3-4 minutes. Add the chorizo, peppers and rice, stir well until coated all the ingredients, especially the rice, are all coated with the oil.
Gradually add stock, a ladle full at a time. Stir, and cook until the stock is absorbed before adding more stock. Add saffron whilst rice is cooking.
Stir in the broad beans and peas. Set the salmon pieces, prawns and mussels amongst the cooking rice. Cover to allow fish to steam for 5 to 7 minutes.
The salmon is cooked when flesh is opaque. (Discard any mussels that remain closed or damaged after cooking.)
Stir in half the chopped coriander.
Just before serving add the brandy or sherry and scatter with the lemon wedges and remaining coriander
Cook's Tip:To prepare mussels, rinse in cold water & remove the 'beard' (piece of fibre hanging from the shell) with a gentle pull. Discard any mussels that are already open unless they close when tapped gently on a firm surface.