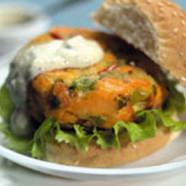 Ingredients
For the burgers:
454g (1lb) Scottish Quality Salmon, cooked and roughly flaked
half red chilli, deseeded and chopped finely
4 spring onions (chopped)
half green pepper, (chopped)
Rind and juice of half lemon
1 tbsp chopped dill or flat leaf parsley or 1 tsp dried mixed herbs
50g (2oz) fresh breadcrumbs
1 egg, beaten
2 tbsp olive oil
4 burger buns
Lettuce to garnish
4 tbsp ready prepared tartare sauce or home made:
150ml (half pint) mayonnaise mixed with 1tsp fresh chopped tarragon, 2tsp chopped capers,
2 tsp chopped gherkins, 2 tsp chopped parsley and 1 tbsp lemon juice
Serves 4
Preparation /cooking time:
30-35 minutes
Nutrition
Fat content: 26g
Carbohydrate (energy): 37.9g
Kilocalorie: 501
Fibre: 1.7g
All values are for one serving using listed ingredients.
Method
Mix the ingredients for the burgers together in a large bowl.
With lightly floured hands, form a mixture into burger shapes.
Heat the oil in a large non-stick frying pan and fry the burgers over a medium heat for 10 minutes, turning carefully halfway through cooking time.
Serve on lightly toasted buns with lettuce and tartare sauce.
Cook's Tip You can buy salmon ready cooked from some stores. For outdoor eating, you could BBQ the salmon burgers.