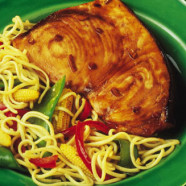 Ingredients
4 x 170g (6oz) tuna or swordfish steaks, fresh or defrosted
Marinade
4 x 15ml spoon (4 tablespoons) soy sauce
55g (2oz) light brown sugar
4 x 15ml spoon (4 tablespoons) dry sherry
5cm (2″) piece root ginger, peeled and grated
Serves 4
NUTRITIONAL VALUES PER PORTION (APPROX) 245 Kilocalories;
41g Protein; 1g Fat; 16g Carbohydrate; 0g Fibre.
Method
Preheat the grill
Place the marinade ingredients in a saucepan. Stir and heat gently until the sugar has dissolved. Set aside to cool.
Place the steaks in a shallow dish and pour over the marinade.  Cover and leave in a cool place for 30 minutes.
Preheat the grill and cook the steaks for 5-6 minutes, turning once and basting with any remaining marinade.
Serve with stir-fry vegetables and noodles.