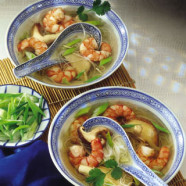 Ingredients
455g (1lb) large cooked peeled prawns, fresh or defrosted
1 x 15ml spoon (1 tablespoon) sunflower oil
1 onion, chopped
2 small green chillies, deseeded and finely chopped
2.5cm (1″) piece fresh root ginger, peeled and chopped
50g (2oz) mixed mushrooms e.g. Shitake, oyster, brown, button
2 litres (3 and a half pints) fish or vegetable stock
1 stalk lemon grass, peeled and chopped
2 x 15ml spoon (2 tablespoons) rice wine or white wine vinegar
4 x 15ml spoon (4 tablespoons) fresh chopped coriander
115g (4oz) rice noodles
spring onions, for garnish
Serves 4
Method
Heat the oil in a large saucepan; cook the onion, chillies and ginger for 2 minutes.  Add the mushrooms and cook for 3 minutes, stirring occasionally.
Add the stock, lemon grass and rice wine or white wine vinegar.  Bring to the boil and simmer for 10-12 minutes.
Add the prawns, coriander and noodles, bring to the boil; reduce the heat and simmer for 3-4 minutes.
Serve garnished with spring onions.